On Rense Radio, author Harry Cooper says the price is $40 million — which includes some other buildings and a lot of forested, lake front land.
Harry says Hitler and Eva Braun lived here from 1945-55, after which they had to move elsewhere, because that area had been discovered as a tourist attraction. Hitler died sometime during 1962-1965, whereas Eva was likely alive until recently, according to Harry.
– –
Hitler's Secret Argentine Sanctuary Is for Sale, Say Conspiracy Theorists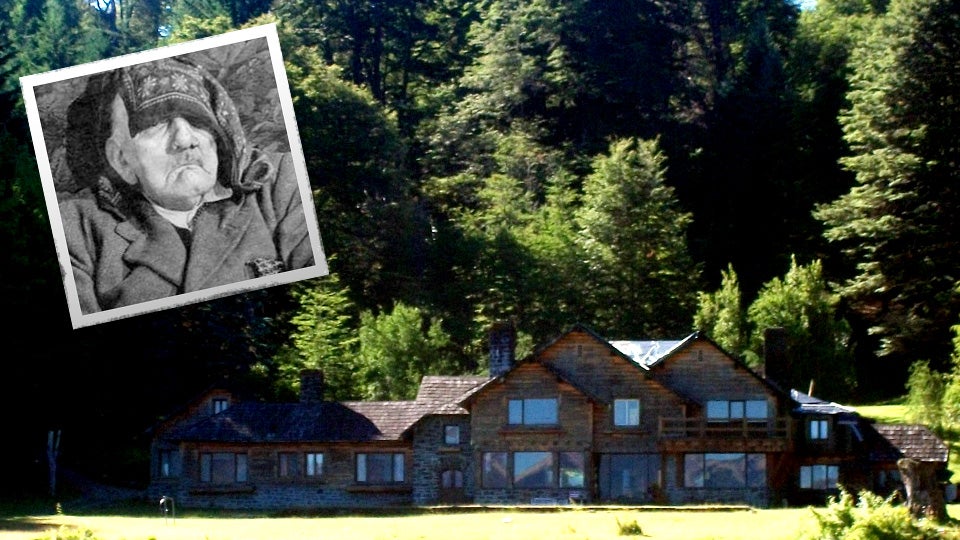 This is the house where Hitler spent the last years of his life, a remote mansion similar to the infamous Berghof located in the Nahuel Huapi Lake, in Patagonia, Argentina, a remote mountainous paradise full of Nazi refugees. …
The mansion—called residencia Inalco—is now for sale after going through a few owners starting with Enrique García Merou, a Buenos Aires lawyer linked to several German-owned companies that allegedly collaborated in the escape to Argentina of high Nazi party members and SS officials.
He bought the lot from architect Alejandro Bustillo, who created the original plans of the house in March 1943. Bustillo also built other houses for Nazi fugitives who were later aprehended in the area. The terrain in which the house was erected, on Bajia Istana near the little town of Villa La Angostura, was quite remote and hardly accessible at the time. …
The plans are similar to the architecture of Hitler's refuge in the Alps, with bedrooms connected by bathrooms and walk-in closets and a tea house located by a small farm.
Like Berghof, the Inalco house could only have been observed from the lake—a forest on the back limited the view from land. It even had Swiss cows imported by Merou from Europe.
Entire Article Here
Related:
(video) Tour Through Adolf Hitler's Argentina — Author Harry Cooper with Jeff Rense
Hitler in Argentina: The Documented Truth of Hitler's Escape from Berlin (The Hitler Escape Trilogy) Paperback – March 7, 2014, by Harry Cooper
(video) Hitler's House in Southern Argentina – Google Map Tour