From: infowars
Robin Hood Tax: Occupy Movement now marching straight into the globalist trap
Patrick Henningsen
Infowars.com
October 25, 2011
It was inevitable that a movement which has struggled to agree on a manifesto, would in the end, do the bidding of the very elite globalist powers that they are demonstrating against to begin with.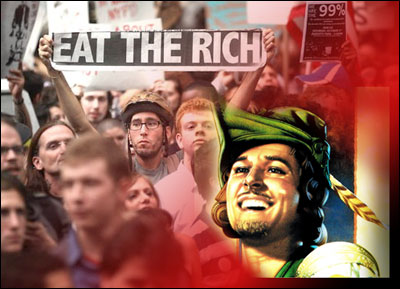 The Robin Hood Tax is an identical transaction-tax scam to the one proposed by globalists at the 2009 UN COP15 Climate Summit in Copenhagen.
Instead of achieving freedom from Central Bank debt enslavement, naive Occupiers appear to have taken the bait, pulling the mob towards endorsing a global taxation system, and one to be administered… by a brand new global government body.
As the Occupy Movement sets its sights on the upcoming G20 Summit in France on November 3-4, its globalist handlers behind the scenes have succeeded in carefully directing its crowds towards the Holy Grail of all socialist super-states – the celebrity supported, trendy "Robin Hood Tax", also known as a Tobin Tax, a financial transaction tax levied on all transactions involving shares, bonds and derivatives. It's likely that such a blanket tax will eventually end up on the end of things like cash withdrawls and the like.