antipit.org
https://www.dogsbite.org/dog-bite-statistics-fatalities-2017.php
Statistical information gathered by DogsBite.org is verifiable through news reports and other criteria.1 Our Fatality Citations section documents sources used in our dog bite fatality research.
2017 dog bite fatality statistics
2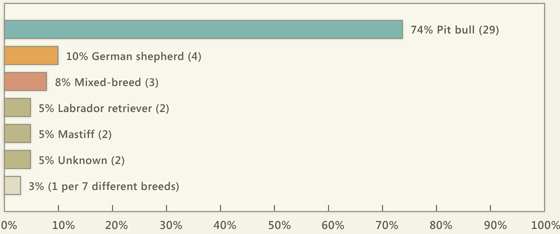 ---

AntiPit: Addressing the Pit Bull Question – Wild Goose
Published on May 18, 2018
Wild Goose is an activist who became involved in metapolitical activities during Gamergate in 2014, throughout Donald Trump's 2016 presidential campaign, and is now spearheading an anti-pit bull initiative.
Patrick welcomes Wild Goose to the show for a discussion about pit bulls. Our program begins with our guest introducing himself and sharing some details about his past participation in both online and real-world activism. We then delve into the nature of pit bulls by invoking statistics and personal first-hand accounts that are a testament to the breed's violent nature. Wild Goose reveals that his own experiences along with frequent reports of vicious incidents drove him to advocate for a ban on the breed. Our conversation goes on to discuss the pro-pit bull lobby; the biological argument for pit bull behaviour; and the dog's interesting history.
In the Red Ice Members' portion of our show we continue to examine the nature of the pit bull and the breed's aggressive proponents. Wild Goose shares with us some of the graphic death threats he has received from pit bull advocates opposed to his campaigning. We remark upon the intense nature of the debate and how it serves as a proxy for other issues such as race realism and white advocacy. The discussion also delves into natural selection, dog breeding and much more.
***************************************************************
Help keep us ad free, sign up for a membership at
👉🏻https://redicemembers.com You'll get full access to our extensive archives. Listen/Watch the second part of this show. Stream or download over 1400 programs, including radio shows, videos TV segments & our live show Weekend Warrior. You get access to exclusive videos + all new videos are made available to members first.
***************************************************************
🔗 More Red Ice: https://redice.tv/
🦉 Follow us on Twitter: https://twitter.com/redicetv
👍🏻 Like us on Facebook: https://facebook.com/RedIceCreations
📰 RSS feeds: https://redice.tv/rss
💨 Support us on Steemit: https://steemit.com/@redicetv
👁‍🗨 Watch us on D.Tube: https://d.tube/#!/c/redicetv NEW! 🔥 YouTube Competitor based on Blockchain technology. Support us with the Cryptocurency STEEM 🔥
🎙 Listen to us on Spreaker: https://www.spreaker.com/show/red-ice…
📽 Subscribe to our YouTube: https://youtube.com/user/RedIceRadio?…