They said the association was so strong they could predict Covid patient outcomes just by their age and vitamin D levels.
From: Daily Mail
Does vitamin D protect against Covid after all? Israeli study finds patients who are deficient are up to 14 TIMES more likely to fall severely ill
4 February 2022
… Previous research has been criticised for only looking at vitamin D levels when the Covid patient was already in hospital. [Ed. – not entirely true. Many patients in this landmark October 2021 study had their levels tested prior to hospitalization: COVID-19 Mortality Risk Correlates Inversely with Vitamin D3 Status, and a Mortality Rate Close to Zero Could Theoretically Be Achieved at 50 ng/mL 25(OH)D3…]
Being ill is known to make levels of the vitamin drop, which may have skewed findings, according to critics.
To overcome this limitation, in their latest study, researchers from Bar Ilan University and the Galilee Medical Center looked at patient records up to two years before they were diagnosed with Covid.
They found people who were consistently deficient in the vitamin were up to 14 times more likely to suffer severe disease, even after adjusting for age and other underlying health woes.
The patients were in hospital before Israel's vaccine rollout was widespread….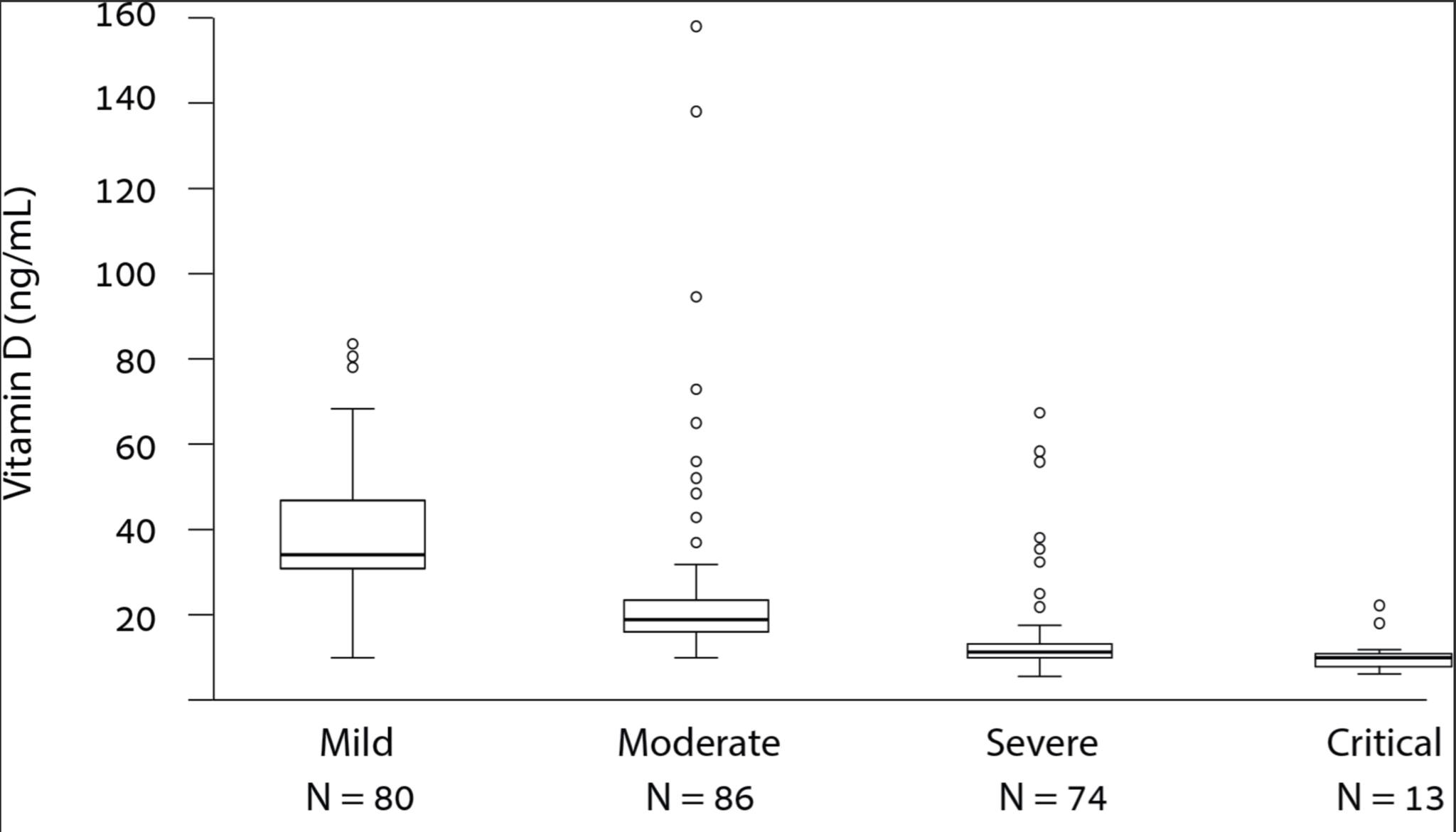 [CHART: Not many ill with levels above 50 ng/ml – ed.]
The researchers measured vitamin D levels in 253 adult Covid patients from April 2020 to February 2021.
Those with vitamin D deficiencies were found to be significantly more likely to develop severe Covid than patients with high levels of the vitamin.
They said the association was so strong they could predict Covid patient outcomes just by their age and vitamin D levels.
Vitamin D is vital in helping the immune system respond properly to the virus, they said. …
It comes on the back of a host of studies suggesting the 'sunshine vitamin' — usually sourced from sunlight — can help protect against the virus. …
Vitamin D deficiency is endemic in the Middle East, including Israel, where nearly four in five people are thought to be low on the vitamin.
The Israeli study, published in peer-reviewed journal PLOS One, looked at patients during the country's first two waves of the pandemic before vaccine coverage was widespread.
They checked Covid patients with an average age of 63 against their previous hospital records to see what their long-term Vitamin D records were like.
Out of the 1,176 patients admitted to the GMC in Nahariya, 253 had been previously tested for Vitamin D levels….
Of those, 52 per cent were deficient, with less than 20ng/mL of the vitamin in their blood, 14 per cent had insufficient levels (20 to 30ng/mL), 17 per cent had adequate levels (30 to 40ng/mL), and 16 per cent had high-normal levels (more than 40ng/mL).
More than a quarter (25.6 per cent) of deficient patients died with the virus, compared to 2.3 per cent in the normal-high group.
Vitamin D deficiency was found in 87 per cent of patients with severe disease and 34 per cent of those with mild or moderate disease.
They also found the association between Vitamin D deficiency and was consistent between those testing low for the vitamin between 14 and 730 days before their positive Covid test.
Dr Dror told the Times of Israel: 'We found it remarkable and striking to see the difference in the chances of becoming a severe patient when you are lacking in vitamin D compared to when you're not.
'What we're seeing when vitamin D helps people with Covid infections is a result of its effectiveness in bolstering the immune systems to deal with viral pathogens that attack the respiratory system.
'This is equally relevant for Omicron as it was for previous variants.'
He said the findings were not based on incomplete or flawed data as with previous studies. …
He said people should consider taking a vitamin D supplement to help avoid worse outcomes with the virus.
Times of Israel, Feb. 3, 2022: Israeli study offers strongest proof yet of vitamin D's power to fight COVID