Court opinion exposes BLM's true intent against Cliven Bundy
Kit Daniels
Infowars.com
April 17, 2014
For over 20 years, the Bureau of Land Management engaged in a "literal, intentional conspiracy" against Nevada ranchers to force them out of business, according to a federal judge whose court opinion exposes the BLM's true intent against rancher Cliven Bundy.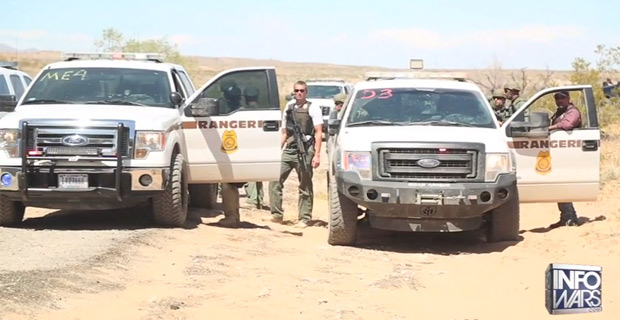 In his opinion of United States v. Estate of Hage, U.S. District Court Judge Robert C. Jones reveals that after late Nevada rancher E. Wayne Hage indicated on his 1993 grazing permit renewal that by signing the permit, he was not surrendering his family's long-standing water and forage rights on the land, the BLM not only rejected the permit but also conspired for decades to both deny his family's property rights and to destroy their cattle business.
"Based upon E. Wayne Hage's declaration that he refused to waive his rights — a declaration that did not purport to change the substance of the grazing permit renewal for which he was applying, and which had no plausible legal effect other than to superfluously assert non-waiver of rights — the Government denied him a renewal grazing permit based upon its frankly nonsensical position that such an assertion of rights meant that the application had not been properly completed," Judge Jones wrote. "After the BLM denied his renewal grazing permit for this reason by letter, the Hages indicated that they would take the issue to court, and they sued the Government in the CFC [Court of Federal Claims.]"
And at that point, Jones explained, the BLM refused to consider any further applications from Hage.
"The entire chain of events is the result of the Government's arbitrary denial of E. Wayne Hage's renewal permit for 1993–2003, and the effects of this due process violation are continuing," he stated.
Judge Jones continued:
In 2007, unsatisfied with the outcome thus far in the CFC, the Government brought the present civil trespass action against Hage and the Estate. The Government did not bring criminal misdemeanor trespass claims, perhaps because it believed it could not satisfy the burden of proof in a criminal trespass action, as a previous criminal action against E. Wayne Hage had been reversed by the Court of Appeals. During the course of the present trial, the Government has: (1)invited others, including Mr. Gary Snow, to apply for grazing permits on allotments where the Hages previously had permits, indicating that Mr. Snow could use water sources on such land in which Hage had water rights, or at least knowing that he would use such sources; (2) applied with the Nevada State Engineer for its own stock watering rights in waters on the land despite that fact that the Government owns no cattle nearby and has never intended to obtain any, but rather for the purpose of obtaining rights for third parties other than Hage in order to interfere with Hage's rights; and (3) issued trespass notices and demands for payment against persons who had cattle pastured with Hage, despite having been notified by these persons and Hage himself that Hage was responsible for these cattle and even issuing such demands for payment to witnesses soon after they testified in this case.

By filing for a public water reserve, the Government in this case sought specifically to transfer to others water rights belonging to the Hages. The Government also explicitly solicited and granted temporary grazing rights to parties who had no preferences under the TGA [Taylor Grazing Act of 1934], such as Mr. Snow, in areas where the Hages had preferences under the TGA.
It is necessary to note that under the TGA, according to Red Canyon Sheep Co. v. Ickes (1938), a rancher whose cattle had previously grazed in the area based upon adjacent land, water rights on the land, etc., has a right to a grazing permit over others who apply for a permit to graze the area without having previously grazed there.
So in this instance, Hage would have priority over Snow for a grazing permit, but the BLM willfully ignored this court ruling.
And after the agency filed for a public water reserve, according to Judge Jones, the BLM "sent trespass notices to people who leased or sold cattle to the Hages, notwithstanding the Hages' admitted and known control over that cattle, in order to pressure other parties not to do business with the Hages, and even to discourage or punish testimony in the present case."
"For this reason, the Court has held certain government officials in contempt and referred the matter to the U.S. Attorney's Office," he wrote. "In summary, government officials, and perhaps also Mr. Snow, entered into a literal, intentional conspiracy to deprive the Hages not only of their permits but also of their vested water rights."
"This behavior shocks the conscience of the Court and provides a sufficient basis for a finding of irreparable harm to support the injunction described at the end of this Order."
So in other words, the BLM willfully attempted to destroy the Hage family's livelihood because Hage dared to assert his existing rights to the land which his family has held since the late 19th century.
And unfortunately the BLM is attempting to do the exact same thing to Cliven Bundy.
"Has Attorney General Eric Holder prosecuted any federal officials for criminal activity and violation of the Hage family's constitutionally protected rights? No," William F. Jasper, senior editor of The New American,wrote on the subject. "Has Sen. Harry Reid denounced this lawlessness and criminal activity by government officials and call upon President Obama and Attorney General Holder to protect the citizens of his state from the depredations of federal officials under their command? No."
"With attitudes such as those expressed above by Sen. Harry Reid, it is almost a certainty that the recently defused Bundy Ranch standoff will be replayed again — and in the not-too-distant future. And the outcome could be much less amicable for all concerned."
Related:
Clyde Bundy's Daughter Explains BLM Feud — "My great grandpa bought the rights to the Bunkerville allotment back in 1887…"
Report: BLM Feds Slaughtered Cattle During Bundy Siege — Federal agency could face charges for abuse of animals
Did BLM Bury Bundy Cattle In Mass Grave? WARNING, GRAPHIC IMAGES
(video) William Jasper: Bundy Ranch – An Ominous Portent Of More To Come | Feds Regulating Private Industry Out Of Business | False Flags, Govt Intimidation And Private Agendas
(FOX News Video) Cliven Bundy's Daughter, Bailey & Wife, Carol Tell Their Story — Touching!
War on the West: Why More Bundy Standoffs Are Coming — Our founding fathers did not intend for politicians of the Eastern states and federal bureaucrats to enjoy a stranglehold on the lifeblood of the people of the Western states
(video) Unedited Footage of Peaceful Resistance to Tyranny — Glenn Beck Deception Illustrated
(video) Historic! Feds Forced to Surrender to American Citizens
The People vs BLM: Right vs Might, Good vs Evil?, White Hats vs White Cars!
(videos) Update: Clark Co. Sheriff Announces BLM 'Will Cease Operation,' Cattle Released
Breaking: Sen. Harry Reid Behind BLM Land Grab of Bundy Ranch — BLM attempted cover-up of Sen. Reid/Chinese gov't takeover of ranch for solar farm
(videos) Infowars On The Ground at Federal Standoff — Includes interviews with ranchers Cliven and Ammon Bundy