Alex Jones & Aaron Dykes
Infowars.com
September 29, 2010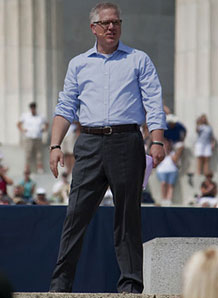 Glenn Beck stands before a crowd in front of the Lincoln Memorial during his 'Restoring Honor' rally. Photo credit Luke X. Martin. Used under creative commons license.
Glenn Beck, as a national media figure, has never been consistent. While he has been seen on TV supporting big government bailouts, new taxes and unlimited war under the dubious banner of "conservative," Beck has also made a name as a Libertarian of sorts, and now as a tax-revolting Patriot leader within the Tea Party.
But what Glenn Beck has never done, until now, is come so close to telling the truth. In recent episodes, as on September 22, Beck has highlighted the agenda of "global elites," while digging up valid information on some very serious advocates of World Government, like Col. Edward Mandell House, the foreign affairs advisor to Woodrow Wilson who helped found the Federal Reserve and the Council on Foreign Relations. In the same episode, Glenn Beck exposed Eugenics as an American experiment that morphed into the Nazi Holocaust and linked Cass Sunstein with his intellectual ancestor, Edward Bernays, who refined the art of propaganda to facilitate covert social engineering and control.
All this is not only new ground for Beck, but for televised news at large. Those in power clearly intend that The People would pay attention to Sarah Palin, Barack Obama, Lindsay Lohan and American Idol, not find out the aims of the Council on Foreign Relations, a publicly-obscure but deeply-influential elitist think tank. Though many of Beck's infamous Fox News programs have revolved around convoluted diagrams and misinformed flow-charts linking entities like the White House and the SDS with Van Jones, 9/11 and Nazism (and so on…), he has now reached the point of concise and important historical examples demonstrating the elite controlled agenda.
So is Glenn Beck for real?
[youtube=http://www.youtube.com/watch?v=t3hDdvsCI24]
That question has come up again and again, as the Infowars.com crew continues research Beck, the Tea Parties and the attempt to control what Zbigniew Brzezinski recently termed as the 'first truly global awakening.'
There is no doubt that Glenn Beck has advanced and popularized many important, relevant and true issues; however, he has also been very deceptive and at times proven to be anything less than the principled patriot he plays on TV. Though we've been frequent critics, we'd be remiss not to commend Glenn Beck for moving in the right direction and addressing real issues about the behind-the-scenes shadow government power structure. Nevertheless, that doesn't mean we're ready to trust him.
On the one hand, his exposé of the global elite stops well short of revealing the influence of the Bilderberg Group (which he has mocked), the Rockefeller Foundation or the trans-national cabal formulated between European royalty, Anglo-American intelligensia and worldwide bureaucracy. Instead, Beck frequent blames "Progressives," which keeps him conveniently on the attack against primarily Democrats. He often suggests that snarky, manipulative policymakers like Cass Sunstein or mindless psuedo-Communists like Van Jones are at the top of power. In reality, however, these figures, while working against the Constitution and American sovereignty, are at best mid-level minions within the New World Order. These figures are no David Rockefeller, Rothschild family or Henry Kissinger.
Where he treads on conservative ground and within the body politic of the Tea Party movement, he has again played more than one role. When he seeks to rouse the rabble, Glenn Beck puts forward that patriots are supposed to question their government. But when that dissent means 9/11 Truthers or 'extreme' Ron Paul-revolutionaries, Glenn Beck says that Patriots who question the government are potential terrorists posing a violent danger (without proof of course).
In times when Glenn Beck appears sincere, he often still discredits the topics he covers through his jokes and antics. His inflammatory and scatter-shot commentary draws fire from the Left and other critics, and make him an easy target easy to dismiss and demean– and the seriousness of the topics he covers is diminished when he loses face.
Alex Jones has suggested the Glenn Beck's doublespeak has more to do with the larger political reorientation. World Government is admittedly formulating out in the open; the New World Order can't hide, so they pose as the alternative and as patriot groups interested in limited government. To use Bob Dylan's terminology, they know which way the wind blows– and their assets are all too ready to wear the coloration of Constitutionalists even when they are diametrically opposed to United States sovereignty.
Glenn Beck himself– and admitted actor, phony and poser– is likely a construct of one of three alternatives (though his role may well be unwitting participation rather than intentional conspiring:
1) Glenn Beck is a Cold-Blooded Operative who is Parading in the Coloration of a Constitutionalist and Patriot, While Waiting for Key Moments to Betray and Backtrack. Beck has already turned on The People to support the bailout, propose a VAT tax, to decry 9/11 truthers as violent extremists and to deny all inquiries into that and other big 'conspiracy theory' events. He pretended to investigate FEMA camps, before rolling out Popular Mechanics to 'debunk' cherry-picked information. Beck has sucker-punched the likes of rising Tea Party candidates like Debra Medina in favor of endorsing establishment candidates like Texas Gov. Rick Perry. Further, he pushed away the strongest Constitutional candidates like Congressman Ron Paul. And that's just the short list. Nothing is worse than a Benedict Arnold.
2) The New World Order May Have Allowed Glenn Beck to Rise as a False Tea Party / Patriot Leader, only to destroy him later (and make way for a leader from the opposite camp). The offshore globalists have scientifically-developed their understanding of human behavior, and long ago predicted patterns and likely responses. Through the Hegelian Dialectic, the globalists play both sides– as populist anger continues to boil up as the economy continues to implode. When they know they can't stop the Ron Paul Revolution or tea party-spirit altogether, the system attempts to co-opt the philosophy and aims of these groups. The New World Order subverts the movement with sellout candidates, vetted by FOX News and the establishment-funded Tea Party Express, who are guaranteed to portray a patriot image but deliver no substance whatsoever while in power.
3) The New World Order System May Be Fractured From Within. Glenn Beck may represent one wing of rival factions within the globalist control grid. The Hegelian Dialectic pits two (or more) opposing sides (A + B) against one another for the specific purpose of creating new reactions (C) through synthesis. Also, conflicting interests– who are united in the bigger picture on global integration and cooperative rule– may seek to give resistance to the integration of a more socialistic system within the United States, represented in the extreme by Stalin and Mao-style Communism, and in the present by President Obama and his allies.
Whatever Glenn Beck may be, we only hope that he will go further– all the way. As Alex Jones states in this video address, Beck should call out the likes of Queen Beatrix, Prince Philip, Ted Turner and Bill & Melinda Gates– all who operate at the heart of groups like Bilderberg, entities like the United Nations and agendas like the worldwide population control program.
Whether or not he goes this far, Beck can be assured that we will be watching his moves carefully. His voice has become an important one, at any rate, and the hope that he might inject real issues and educate people about the very real dangers posed by world government is significant.
Send us feedback about your interpretation of Glenn Beck, help us analysis his game and hold his feet to the fire. Leave comments with your thoughts here in the story or over at Twitter.
—————————–
Alex Jones is a nationally-syndicated radio host, and the owner of several news websites including Infowars.com and PrisonPlanet.com. He is also a documentary filmmaker and investigative journalist who has achieved worldwide recognition for his outspoken views. He has appeared in such publications as The New York Times, Vanity Fair, and Popular Mechanics and such programs as Good Morning America, 20/20 Downtown, 60 Minutes, The Discovery Channel, The History Channel, Fox News, TalkSport (UK), Russia Today, Channel 4 (UK), A&E, America's most widely listened to late night radio show, Coast to Coast AM, C-Span, and many other venues.
Aaron Dykes is frequent writer for Infowars.com and is the webmaster for JonesReport.com. He is also a videographer, researcher and editor who has worked on numerous documentaries and videos reports. His background includes a bachelor's degree from the University of Texas at Austin in government as well radio-television-film.
Related:
Who Really Runs the New World Order Exposed: Part 2 of "Is Glenn Beck for Real?"