Kurt Nimmo
Infowars.com
September 23, 2011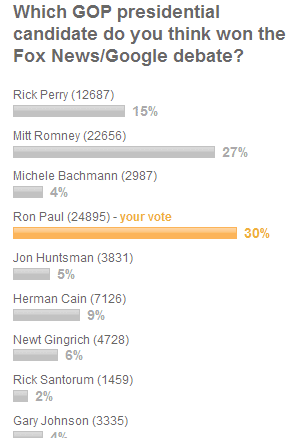 Fox News has either removed or shuffled off to a distant web page the results of an online GOP presidential candidate poll.
Like most other polls, Ron Paul won this one hands-down, and that's why Fox News got rid of it.
The establishment is seriously irked that Paul keeps winning these polls, especially the online polls that are difficult to skew in favor of Romney or Perry.
It will be interesting to see what happens next year during the primaries.
Fox News will have a difficult time ignoring millions of Ron Paul supporters who will cry foul if the Bilderberg insider Perry or the Democrat in Republican clothing Romney are selected over Paul to run against Obama or maybe even Hillary Clinton.
Above is a screen capture of the poll sent by an Infowars.com reader before it disappeared completely.
It was here:
http://www.foxnews.com/opinion/2011/09/22/who-won-debate/
The page now produces an error.
Thanks to the Infowars.com readers who sent information on the disappeared poll.
Related:
Ron Paul: Third in polls, but only 4.5 minutes speaking time in FOX News debate
All of my FOX News is SPIN Central posts in reverse-chronological order