Anchorage Assemblywoman Meg Zaletel has a huge rainbow sticker on her laptop at this meeting where they are trying to change the process for selection of the youth representative. The outgoing rep, Sarah Price was too conservative, which they need to make sure can't happen again. Meg claims the Anchorage Assembly is "not partisan" at minute-6:00 in the Must Read Alaska video this still image is taken from.
At 5:45, Price said this Assembly is partisan, which it is, having an openly 'woke,' extremely liberal majority. Zaletel interrupted Price, calling for a point of order, saying "the Assembly is a non-partisan body by design, and I don't want this information out." Chair Suzanne LaFrance shook her head when Price said they're partisan. But they clearly are.
Zaletel's other giant sticker says: "THIS IS DENA'INA ELNENA" [This is the Dena'ina people's land]. Decoded, Zaletel seems to be telling us that Anchorage is not rightfully Anchorage citizens' land (Native and non-native). Anchorage is still only the Alaska Natives' land. Thus, in Zaletel's 'woke' logic, us non-natives have no right to call Anchorage our city. So Zaletel has the right to rule us as trespassers — unless we're homosexuals, who are somehow grafted in. All others better start packing their bags — which we will not!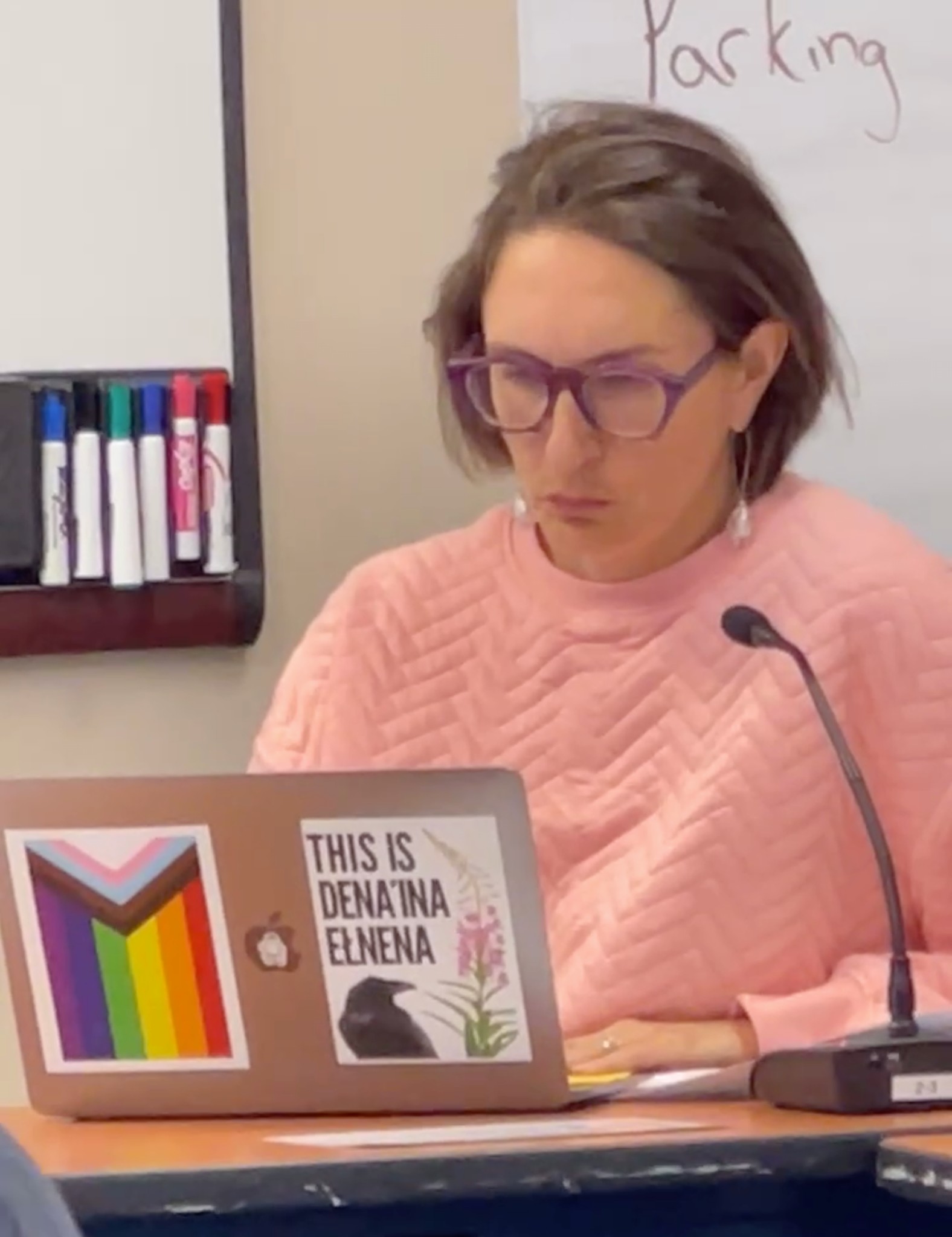 Screenshot from Must Read Alaska's 6/17/22 video, below:
Work session gets testy when Chris Constant cuts off the mics of women members. Assembly majority is trying to take over control of the Youth Advisory Commission, which is currently under the Executive Branch.
https://www.facebook.com/mustreadalaska/videos/441780054041226/
• • •
Municipality of Anchorage's video of the entire meeting:
Worksession re AO 2022-69, codifying the Assembly process for selection of the youth representative