This is an abbreviated version. Full version linked below
[youtube=http://www.youtube.com/watch?v=K_F48oaOskI]Charles Lindbergh's – September 11, 1941 Des Moines Speech
Charles Lindbergh's speech to the America First Committee on September 11, 1941 (same day as the ground-breaking ceremony for the Pentagon). Hidden history repeats!
From: charleslindbergh.com…
Des Moines Speech: Delivered in Des Moines, Iowa, on September 11, 1941, this speech was met with outrage in many quarters
The following resources are offered as a resource to understand Charles Lindbergh's involvement within the America First Committee prior to the start of World War II. This site does not support the content of some of the information below, however, the goal of this page is to offer a perspective of available information to make your own judgment. Please feel free to submit additional information for this page.
Audio Clips: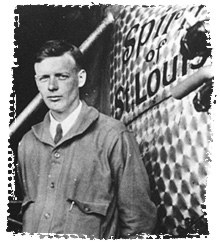 Des Moines Speech:
It is now two years since this latest European war began. From that day in September, 1939, until the present moment, there has been an over-increasing effort to force the United States into the conflict.
[…]
When hostilities commenced in Europe, in 1939, it was realized by these groups that the American people had no intention of entering the war. They knew it would be worse than useless to ask us for a declaration of war at that time. But they believed that this country could be entered into the war in very much the same way we were entered into the last one.
They planned: first, to prepare the United States for foreign war under the guise of American defense; second, to involve us in the war, step by step, without our realization; third, to create a series of incidents which would force us into the actual conflict. These plans were of course, to be covered and assisted by the full power of their propaganda.
Our theaters soon became filled with plays portraying the glory of war. Newsreels lost all semblance of objectivity. Newspapers and magazines began to lose advertising if they carried anti-war articles. A smear campaign was instituted against individuals who opposed intervention. The terms "fifth columnist," "traitor," "Nazi," "anti-Semitic" were thrown ceaselessly at any one who dared to suggest that it was not to the best interests of the United States to enter the war. Men lost their jobs if they were frankly anti-war. Many others dared no longer speak.
Before long, lecture halls that were open to the advocates of war were closed to speakers who opposed it. A fear campaign was inaugurated. We were told that aviation, which has held the British fleet off the continent of Europe, made America more vulnerable than ever before to invasion. Propaganda was in full swing.
[…]
The second major group I mentioned is the Jewish.
It is not difficult to understand why Jewish people desire the overthrow of Nazi Germany. The persecution they suffered in Germany would be sufficient to make bitter enemies of any race.
No person with a sense of the dignity of mankind can condone the persecution of the Jewish race in Germany. But no person of honesty and vision can look on their pro-war policy here today without seeing the dangers involved in such a policy both for us and for them. Instead of agitating for war, the Jewish groups in this country should be opposing it in every possible way for they will be among the first to feel its consequences.
Tolerance is a virtue that depends upon peace and strength. History shows that it cannot survive war and devastations. A few far-sighted Jewish people realize this and stand opposed to intervention. But the majority still do not.
Their greatest danger to this country lies in their large ownership and influence in our motion pictures, our press, our radio and our government.
I am not attacking either the Jewish or the British people. Both races, I admire. But I am saying that the leaders of both the British and the Jewish races, for reasons which are as understandable from their viewpoint as they are inadvisable from ours, for reasons which are not American, wish to involve us in the war.
We cannot blame them for looking out for what they believe to be their own interests, but we also must look out for ours. We cannot allow the natural passions and prejudices of other peoples to lead our country to destruction.