Flashpoint 2022-10
The Hidden Monks – Earthpulse Press Inc.
Dr. Nick Begich
TheHiddenMonks.com
Earthpulse.com
Dear Friend,
It has been quite a while since I have talked with many of my friends. I do miss you all. Well, most of you. Just kidding. My last public event was April 30, 2021 when I went "off-line" and stopped most of my public work. My last event was aired on www.thehiddenmonks.com and YouTube. It was 15 hours divided into 28 segments. It was the culmination of 50 years of scholarship and shared public work.
So why come back into view now? Several reasons, but today my focus is on my son who is running for Congress to represent Alaska. I need your help and would appreciate your consideration of my thoughts here.
Many of my friends have been wondering what I have been doing. I will talk about some of this later in another update to all of you in a separate communication. I have been doing a lot of personal internal spiritual work, giving time to my close relationships and carefully considering when and where the work goes forward – while the future unfolds before us.
My son is a Republican, Nick III comes from a family of leaders within the Democrat Party. My family members are very different in our politics coming from both organized political parties and independent traditions. Believe me our family events are the fireworks everyone looks for on the 4th of July! The "Great Begich Debate", happens every holiday and family gathering. Sorry no tickets, only invitation. Yet, as I say this, I want to express the deepest part of the debate and the fire that resides within it. The fire is simply Love, compassion and passion poured out. The most powerful thing to hold in the center of all relationships, Love. The foundation of family and the hope of nations. The challenge of this time in history is to find the core of respectful disagreement and passionate, well-articulated and thoughtful solutions. My family is trained in it. We live it every day. Nick III is a living example of it, which is true leadership. To Love within family, state and nation in the midst of turbulent times is what we need.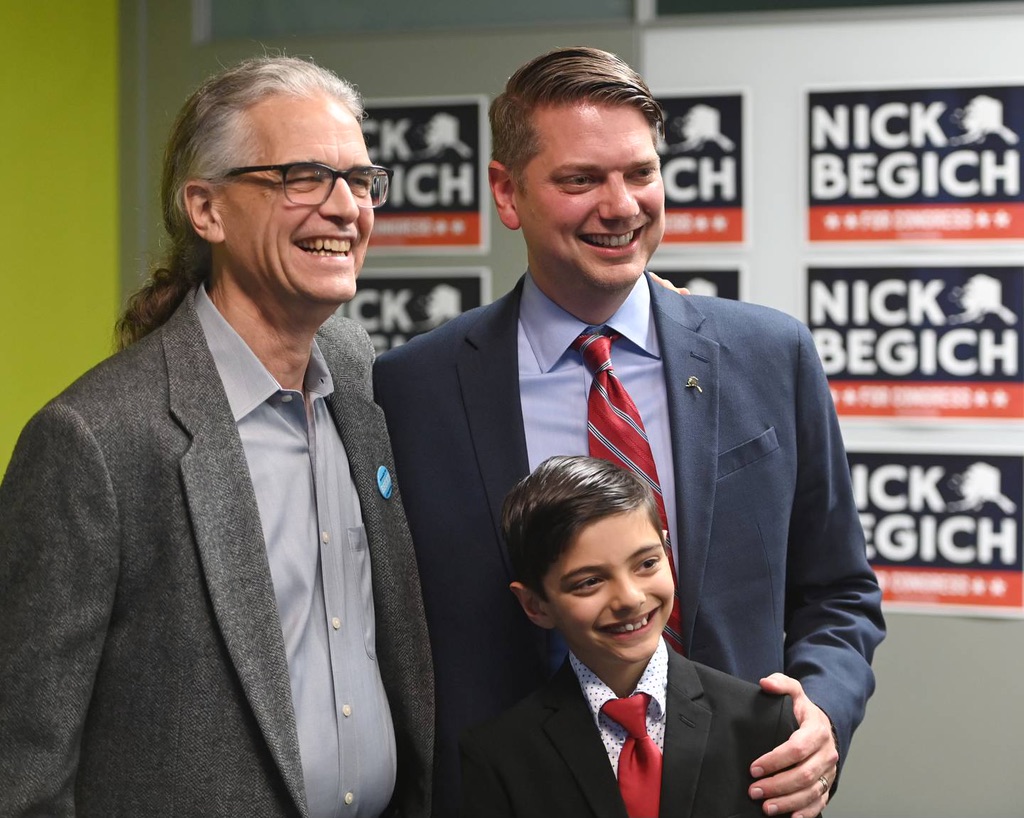 The three Nicks. Dr. Nick Begich, Nick III and my grandson Nicholas IV. Primary Night Aug 16, 2022.
Nick's grandfather was a respected conservative Democrat when he served in the Alaska State Senate the United States Congress. This was shortly after statehood. His uncle Mark served in the U.S. Senate. His uncles Tom and Mark as well as his great uncle Joe have served as Assemblymen, State Senators, State and Legislators, and Mayors in Alaska and Minnesota. Our family is a complex mix of relationships through politics, business, science, education and many other fields.
Many of you are seeing the news reports on my son Nick III, who is running for the Alaska's only seat in the United States House of Representatives. Nick's grandfather, my dad, held this seat in the early 1970's until he disappeared on a plane flight with the House Majority Leader Hale Boggs, in the wilderness of Alaska. This was a very important period in US history. The last time we were experiencing much of the same upheavals as we are 50 years later.
(see https://track.premium.groovemail.net/api/rb456/urltrack/6341e22ef98a4d7f164fda7d/6341e1e7f7de2f27307841e5 )
Why should you get involved? Because Alaska, in several areas, is the "hope of the Nation." Alaska is 18% of the United States land mass. We have a coast line in Alaska greater than the West coast, East coast and Gulf coast combined. We have most of the 50 "critical and strategic minerals" in high-grade deposits needed by industry. We need the infrastructure to support the mission of economic sovereignty as a nation through resource independence. Alaska is home to many world class deposits. As for energy, we have the largest known hydrocarbon deposits of any location known on earth!
(See: https://track.premium.groovemail.net/api/rb456/urltrack/6341e22ef98a4d7f164fda7d/6341e1e7f7de2f27307841e6 )
We have in this state alone, the greatest and largest fishery left on the planet! We have EVERY base material needed to self-sustain our Nation and build a real set of possibilities for the future. Alaska has ONE VOICE in the U.S. House because of the state's small population (under 750,000). One voice is all that is allowed to articulate Alaska's business case to the nation. The Representative must be able to demonstrate to national leadership what is possible when the nation and the world considers the 49th state. Nick III can explain a plan and a way forward that provides a national solution. He can convince his 434 other members of the U.S. House of Representatives through a vision that includes Alaska in our Nation's solutions, that's my son Nick Begich III.
In the November, 1972 election, Don Young was defeated by my father even though dad had disappeared three weeks before his second election to the office. Later in the Spring of 1973 a Special Election was held. Don Young was elected and served for 49 years. He was the longest serving Republican Congressman in U.S. history. My son Nick III was Don's re-election co-chair in the last election cycle in 2020 and traveled and spoke with Don around Alaska. Nick's plan was to consider running for the seat and see if he felt he could make a difference. After the 2020 election, Nick III went to Washington, D.C. and spent three weeks in Congressman Young's office with an "Intern's Pass" so he could freely move around the Capital. This was when the press, lobbyists and non-staff were not allowed in the Capital Building and Offices right after the last elections. Nick III is a systems guy, a very smart business person and a specialist in a number of areas. What he saw can be fixed. The government has been reformed to humor the public with illusions while catering to the elite insiders. In October, 2021 Nick III filed for office and his campaign began. A few months later, disaster struck and Congressman Young died of natural causes on a commercial airline flight returning to Alaska.
Immediately after the Congressman's untimely death, over 40 other "sharks on a feeding frenzy," piled in the race for the vacant seat. They included Santa Claus and reality TV star and disgraced former Governor, Sarah Palin. The Special Election in Alaska is over and a Democrat won because of Sarah Palin's entering the race. At this point, EVERY poll shows she cannot win in Alaska, period. People outside Alaska do not realize how uneducated and ignorant she is on the issues facing the Nation and our state. On policy Sarah has no depth or information. She is a soundbite of sloganeering. But don't take my word for it…see this debate yourself.
(see: https://track.premium.groovemail.net/api/rb456/urltrack/6341e22ef98a4d7f164fda7d/6341e1e7f7de2f27307841e7 )
The sad part here is that the three candidates had the questions a week in advance of the debate and she still could not answer them. What you will witness requires no commentary, Sarah does not know anything and cannot even "get up to speed". Policy issues were clear for the other two candidates; the Democrat, Mary Peltola and my son, Nick Begich III the Republican. These are the only ones with a clue, although polar opposites. Watch the debate and you will see the contrast and hopefully actively support my son. His campaign web site is: https://track.premium.groovemail.net/api/rb456/urltrack/6341e22ef98a4d7f164fda7d/6341e1e7f7de2f27307841e8
To follow the race, I recommend www.mustreadalaska.com which has been reporting on local and national news stories related to Alaska.
So, what can you do to help:
1. Share, Forward and Post this communication everywhere you can think of.
2. If you are a US citizen you can donate to his campaign at:
(see: https://track.premium.groovemail.net/api/rb456/urltrack/6341e22ef98a4d7f164fda7d/6341e1e7f7de2f27307841ea )