From: Henry Makow (A Jew, himself)
Again, Zionists Set Up Jews for Holocaust
May 31, 2010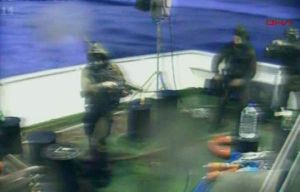 by Henry Makow, Ph.D.
Israel is the primary source of anti-Semitism in the world today, and jeopardizes the security of all Jews. Proclaiming itself the "Jewish State" but acting as a rogue state, Israel exposes all Jews to revulsion and retribution.
The murder of Gaza peace activists provides more evidence that the actual goal of Zionism is not to protect Jews from anti-Semitism but in fact, is to create anti-Semitism.
The purpose is to make Jews a pariah unto the nations with no choice but to follow Zionist dictates.
Eventually, they will be sacrificed for Zionist goals, as they were in the holocaust. This is because Zionism is a Masonic (Illuminati, cabalist, satanic) secret society intent on building a totalitarian New World Order. The majority of Jews have no part in this, except to be sacrificed again for a cause of which they have no inkling.
Zionists are stripping Israelis and Jews of moral legitimacy so they can be liquidated again without any compunction. And most Israelis and Jews  cooperate by supporting Israeli outrages with feeble excuses, blithely indifferent to the possible consequences.
Do the moral arithmetic: In 2006, Israel kills 1400 Lebanese and inflicts $10 billion in damage because 2 soldiers are captured. In 2009-10, Israel kills 1300 Gaza civilians and levels countless buildings because of a few popgun rockets. Now this- killing unarmed international peace activists bringing aid to the beleaguered Gazans.
Israel jeopardizes the security of Jews everywhere by its actions. Similarly, in 1933, Samuel Untermeyer, representing organized Jewry, "declared war" on Nazi Germany. This while a half a million Jews still lived in Germany and were subject to Nazi reprisal and persecution! Jews today are hostages to Israel's shameless behavior.