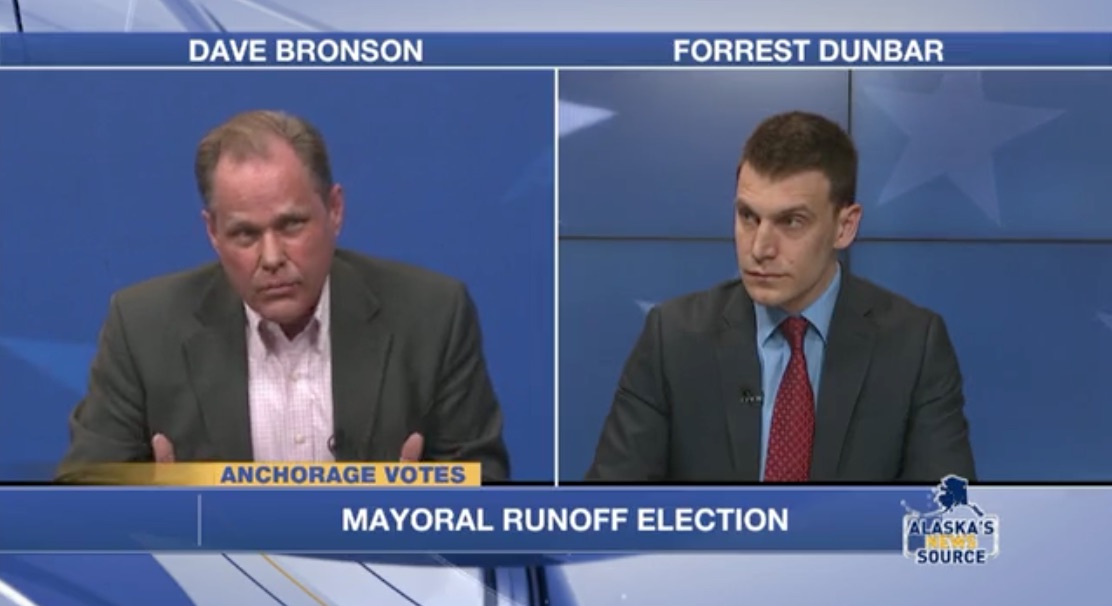 April 29, 2021 / author: Suzanne Downing
Dave Bronson, running for Anchorage mayor, found he was debating both his opponent Forrest Dunbar and moderator Rebecca Palsha, as the KTUU-Alaska's News Source "conversation" devolved into an argument between a "wise dad" and an "angry teen" Wednesday. …
Bronson explained that at first the policy goal of the mayor had been to "flatten the curve. But over the summer, the rules changed."
The municipal policy shifted to, "No one was supposed to get this virus. This would be the first virus in the history of the world that no one was supposed to get, I guess, by government edict," Bronson said.
Of the handling of the epidemic in Anchorage, Bronson continued: "We have shut down businesses, we've destroyed lives. We've shut down our churches and our schools," Bronson said. "I've never seen a community in worse shape than this community." …
Dunbar admitted that the municipality had made mistakes that prevented the reopening of schools in the fall. He did not elaborate on those mistakes but said "then we worked very hard, particularly in December to get schools open, to get churches open, to get businesses open."
That was not true. He fought opening the city in December. Must Read Alaska has the video.
Dunbar said that "Anchorage is now basically down to a mask mandate only." That happened this week during an Assembly meeting, when his campaign ally Assemblyman Chris Constant moved to remove nearly all edicts governing businesses in Anchorage. It was seen by critics as a gesture to save Dunbar's campaign.
[Read: Desperate Dunbar: Assembly throws his campaign a Hail Mary]
Bronson, throwing a punch of his own, said, "You've used your experience to destroy the city." …
Dunbar finally lost his composure at the end of the debate, when Bronson explained that Dunbar's statements about the U.S. Constitution were what finally drove Bronson to file for mayor.
Dunbar interrupted him, "I did not say that. I didn't say that." Dave replied, "We have the video." Must Read Alaska's YouTube channel, in fact, captured that video from a meeting last summer, when Dunbar was describing the racist origins of America and how our constitutional law is based on racist policy. Roll tape:
Related:
Fact-checking Dunbar: Has Anchorage been safer since 2016, when he joined Assembly?