Anyone who is even thinking about voting for Palin for any public office should read this book first.
If you don't believe that Sarah Palin is a deceitful and un-Christian individual, then read this book.
– –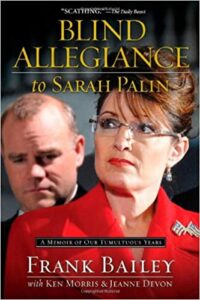 by Frank Bailey
This explosive, up-close view of Sarah Palin comes from an inner-circle confidant who shares surprising information about how Sarah dealt with staff and perceived enemies, and the discrepancy between what she said and what she did.
About the Author
Frank Bailey grew up in Kodiak, Alaska. He attended college at Capernwray Bible School in Carnforth, England as well as Moody Bible Institute in Chicago. Frank was the Palin campaign administrator for the successful 2006 primary and general election campaigns. Once elected, Frank became deputy director of the Palin/Parnell transition team and later director of the State of Alaska Office of Boards and Commissions. Frank currently lives in Anchorage with his wife Janeen and their two children. He manages their small family business and serves as the interim music director for Rabbit Creek Community Church. Frank's passions are his children and writing music.
Select Amazon Reviews
Frank Bailey formerly had a key role in Palin's campaigns and while she was governor. His prior background includes two degrees from different Bible colleges. Early on Bailey tells readers that counterattacking anyone who opposed her was top priority for those working for her. Early on she came up with the ideas of preparing ghostwritten op-eds (some she wrote herself), rigged media polls, character assassinations, using 'Fox News' surrogates and friendly blogs, etc. His motivation for writing "Blind Allegiance" – Bailey was convinced that her priorities and personality would lead to a major disaster if elected to the presidency. Bailey also tells readers that he has no doubt desire for greater riches was the primary, possibly only cause, for Palin resigning as Alaska governor.
– –
The thing that makes this book so intriguing, is that every claim is backed up with quotes from actual emails. It's a very telling account of the sleaze that exists in politics. The author at least admits how he was sucked in, and allowed to forget his own morals, and embark on the path of personal destruction. The most honest account I've seen as Palin's short stint as Governor of Alaska.
Continue reading "Blind Allegiance to Sarah Palin: A Memoir of Our Tumultuous Years, by Frank Bailey (Palin's high level staffer)" →